Home>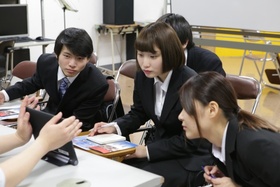 On December 2nd, 2016, Joint Organizations Information Session was held at SHOBI's main and 1st building.
A total of 31 organizations participated. Below is a list of the various types of companies.
•
TV, Concert Sound, Lighting, Imaging related company
•
Concert, Stage set up related company
•
LIVE house management related company
•
AV equipment rental, Operations related company
•
Program production, Commercial Movie Production, TV engineering related company
•
FM Broadcasting Station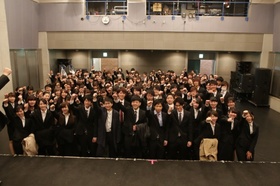 This session attendees were, including the international students, 1st year students from the Sound and Visual Department, Music Business Department and 3rd year students from Comprehensive Music Department. A total of 160 students participated.
For the 1st year students, it's only been 8 months since the start of their course however; being able to interact with these organizations provided them with a better understanding.
After the opening ceremony, each organizations set up their own booths, allowing students to be able to ask any questions that they might have.
Not only did they provide information about their own organization, they also went further to explain the process for employment as well as important advices for the students who were interested. For the students, it was a day of getting to know the various organizations around, even more to provide them with an ultimate goal which they would want to achieve at the end of their course.


On 8th and 9th October 2016, the popular yearly Musical Department performance 'SHOBI MUSICAL SPECIAL STAGE 2016' was held at SHOBI's Vario Hall.



The Sound & Visual Production Department was in-charge of the sound and visual effects at this performance.
With afternoon and night sessions over 2 days, coming to a total of 4 performances, it was a fulfilling practical training.

At SHOBI's Sound & Visual Production Department, there are plenty of chances to participate in other departments' performances and events as a form of training.



It was an important performance for the Musical Department students.
SHOBI's Vario Hall was filled to maximum capacity with people who had purchased tickets to view the show.
As such an important event, the students of the Sound & Visual Department were placed in-charge of the sound and visual effects.
As such, while being referred to as training within the school, in all reality it is the actual performance.

As expected, it was nerve wrecking. However, it is this sense of nervousness that brings about growth in a person.

It was a 2-day uphill battle for the Sound & Visual Production students.

It is because this is a Sound & Visual Production Department in a music school with a long history that we are able to experience the meaning of 'training = the real world'.

Link to the Sound & Visual Production Department
http://www.shobi.ac.jp/course/sound/

Please have a look at the digest video. Part 1 is performed by the double-cast.


There also take a look at Part 2 at the performance. Enjoy!


Inside the SHOBI's Arrangement & Composition Department syllabus, we include "private composition lessons".
It is a compulsory subject since it has a great importance. Once a week, there are one-on-one lessons with the tutor teacher. Of course, these lessons do not require additional tuition fees.


Subjects as Music Theory or DTM are indeed an important part of our syllabus, but what makes our school special is that we include the private composition lessons within the curriculum during the 2 years.

In fact, if we ask to the students why they chose to come to SHOBI, many of them say it is because SHOBI's Arrangement & Composition Department offers private composition lessons.

The tutor teachers are specifically assigned to each student according to the student's musical preferences and what they are aiming at musically.

Since there are weekly assignments to be fulfilled, the private composition lessons prove to be a challenging subject.

Even when asking to the international students in SHOBI's Arrangement & Composition Department about their favorite subject and their hardest subject, everybody coincides that it is in both cases private composition lessons.

However challenging it may be, the results accomplished are inestimable. Also, at each term's final exams, one original piece is presented.

Besides this private composition lessons, SHOBI's Arrangement & Composition Department is proud to;

♪have a world-class and distinctive curriculum at our "Screen Music Major",
♪release to the market the students' best compositions by our indie label "D-MAC RECORDS",
♪count with the presence of several music industry professionals in our "Industry Audition",
♪present and support all the young sound creators in our internet program "Youth Composer", and

lots of other "only one" aspects, which we will keep presenting on further volumes of this issue.

So, won't you come and improve your skills at SHOBI's Arrangement & Composition Department?
Specifically aimed at the international students thinking to enroll in a professional training school, at SHOBI's International Exchange Center we are holding "Pre-school" lessons once a month every 3rd Saturday until February, 2017. Before enrolling, the students have the opportunity to participate in this "Pre-school" lessons consisting of lectures that will get the students used to the real lessons at the school.

This time, we report the event's 3rd edition, held on the past Saturday, November 19th 2016, called: "SHOBI's Pre-school~Getting used to Music and Music Business Terminology~" for international students (Lecturer: SHOBI Entertainment Business Entrepreneurship Department's head teacher, Mr. Norihiko Nishikawa).

The topic on this lesson was "How is the music and entertainment industry going to evolve in the future?"
All the international students listened with deep interest to the valuable lecture of Mr. Nishikawa, who has a splendid career in the music and entertainment industry.
First of all, Mr. Nishikawa explained in an easy way the first keyword of the day; "From [B to C] to [B to B]" introducing the live shows and album sales trend, the Paul McCartney uproar and the current YouTube situation among actual data and some mundane examples.

Since the keyword of the jobs of the future will be "Arranging by sensitivity", Mr. Nishikawa presented the international students a suggestion: "It might be interesting to arrange the Japanese contents by your unique sensitivity, which is different from the Japanese people's one".

In addition to the explanation of other keywords as "VR", "Drone" and "Olympics", we could also listen to some valuable and privileged information about the music and entertainment industry, rarely heard elsewhere, all along with videos, pictures and the latest news.

Finally, on the question and answer session, some questions like "How much does it cost to shoot by camera drone?" or "Can I become a sound engineer even if I have no experience at all?" were raised and the participants could get their hands on real facts about the current situation of the industry.
It was a very interesting and enjoyable speech ♪

The opinions of the participants on this lecture were very favorable, with comments like "I could learn loads of vocabulary of the music industry", "The speech was easy to understand and the content was very interesting", "I could listen to many things that are taught only here in this school", "I was insecure about my Japanese level, but before the lesson there was an explanation so I could grasp mostly everything" or "For me who didn't know anything about the Japanese music industry, it was a very interesting lecture".

★On the next Pre-school, on Saturday, December 17th from 10:00 to 12:00 "Music business~Work and Study~』(Lecturer:SHOBI Music Business Department's head teacher, Mr. Tadayoshi Okamoto. For information about the following lessons, schedule, application process and more, please visit this link.
http://www.shobi.ac.jp/english/news/pre_school2016guide.html
※For those insecure about their Japanese level, Japanese teacher, Mr. Naokazu Kishi from the International Exchange Center will teach you about the vocabulary being used in the lessons.

All these lessons are free and enjoyable, so please do not hesitate and take part in them ♪
A collaboration live with selected current and graduate students from SHOBI's Vocal Department was held at Shibuya's Clubasia on 11th October 2016.

Starring selected graduates, current students selected through internal auditions, and high school students wishing to apply to SHOBI, selected from the 'Utacchae Just Sing Contest' held on 22nd September, showcasing high level performances.
A compilation of not only the past and present, but also the future of SHOBI's Vocal Department.

Three International students also participated in this live.

The first is LIANG, Chong Xi, a Vocal Department year-1 student from China.

LIANG, Chong Xi "This live performance is audition based. As a first year student, I thought I wouldn't be chosen. Hence, with the song that I loved, I entered the audition without putting much hope into the results. Fortunately, I was chosen along with one other student.
The song which I picked was sung by ARISAKA, Mika, which was the ending theme for the anime "The Twelve Kingdoms". I was worried that singing this ballade in the earlier part of the live performance would make the atmosphere a little too heavy, but being able to sing the song of the anime that I love the best on stage during this live performance gave me much pleasure. From this experience, I was able to realise my weaknesses, which would help me to push on to the next live performance. I will continue to diligently work hard while aiming to get better.

The second is EUN, Yukyong, a Vocal Department year-2 student from Korea.

EUN, Yukyong "I sang miwa's 'Kataomoi (One-sided love)'. As someone who suffers from stage fright, I was nervous about having to sing solo. However, as it is a song that I very much like, alongside the chance to sing at Clubasia, a live house with a long history in Shibuya, I was able to enjoy myself a lot. It was a very good experience."

The third is SONG, Minjeon, also a Vocal Department year-2 student from Korea.

SONG, Minjeon "The song I sang was 'Side To side', Ariana Grande ft. Nicki Minaj. It was a duet with my classmate, Oomori Seiko. I sang Nicki Minaj's part. The preparation period for this live was relatively short and I was having a hard time right up to the actual day. However, it was also the most enjoyable live that I have participated in till now. I was honoured to be selected through the auditions, and through practice and rehearsals I was able to discover new things about myself. In the future, I wish to further my studies at SHOBI's Comprehensive Music Department, Vocal course."

We look forward to more from SHOBI College of Music, SHOBI's Vocal Department.