Home>
November 3rd, decided!] Held by the Intelligent people from Music industry [A new era's music business forum 2011]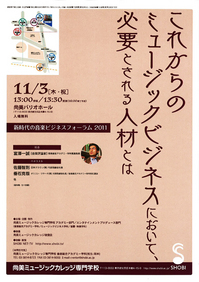 November 3rd, 2011 (Thursday. Holiday )
[A new era's music business forum 2011] coming up at SHOBI VARIO HALL.

Sixth time in 2011,another disscusion coming up this week.Basically on "What kind of talented people (employment) are required to the future music business".

The central of music business has been changed from [Package] to [Non-Package].Rapidly changing music industry requires different conditions recently.
From the old music model and plus the new digital generation,the ability to response also has been changed.

Variety opinion leader is going to be here and tell you the new thoughts in music industry and what they are looking forward in the future.

Please come and learn an amazing lesson with us.

[Date & Time]
November 3rd, 2011 (Thursday. Holiday )
Open 13:00
Start 13:30

[Place]
SHOBI VARIO HALL

[Charge]
Free

[Cast]
<Moderator>
Sound-music critic/ Professor of Comprehensive department
Issei Tomizawa

<Panelists>
Nippon Crown Co., Ltd President and Representative Director
Tomonori Satoo

Oricon research Co.Ltd President and Representative Director
Katsuya Taruishi
Other

[Produce]
SHOBI College of Music, ACADEMIC BRANCH / ENTERTAINMENT BRANCH
(Comprehensive department / music business department / sound&visual production department)

[Support]
SHOBI College of Music,
Supporters Association

[Record & Video]
SHOBI NET-TV

For more information, please contact the International Exchange Centre.
Tel: 03-3813-9326 Email: iec@shobi.ac.jp