Home>
[October 28th, decided!] The originality work by students from arrangement&composition course. LIVE in 2011 [arrangement & composition department]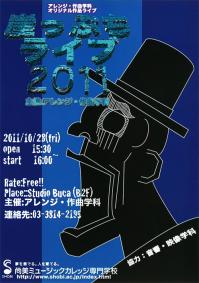 October 28th, 2011 (FRI.)

2011 here is another amazing live coming up at Studio Buca hosting by the arrangement& composition department.
This time, they are going to show you the SONGWRITER, DJ•CLUBMUSIC, SCREENMUSIC, GAME•ANIMATION MUSIC, and more. Within distinct personality, the students from arrangement & composition course department exhibit the best strength of music and creativity. It is going to be a powerful and energetic night.
Please come and enjoy our originality work live with us.

[Date & Time]
October 28th, 2011 (FRI)
Open 15:30
Start 16:00

[Place]
STUDIO BUCA
<Click here to see the map>
http://www.shobi.ac.jp/help/access.html

[Charge]
Free

[Support]
Sound & Visual Production
Application starts from 1st October. For more information, please contact the International Exchange Centre.
Tel: 03-3813-9326 Email: iec@shobi.ac.jp