Home>
Comprehensive Music Department Drums Course fourth year student Taveekoon Komindr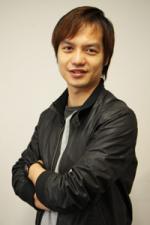 Hello. My name is Taveekoon Komindr. I came from Thailand. I have been playing drums since I was 14 years old. Before I come to Japan, I`ve debuted with my band in Garage Rock Style. But I wanted to develope my skill more. So, I made a decision to learn about music more and chose Japan. Now I`m studying jazz drums at Shobi College Of Music in majoring drums. It`s so different with style i`ve played before. But i`m trying to be professional drummer in all-around style of music.

At Shobi, I`ve learned many things from many teachers. Each teacher has unique style to teach me to be skillful. They taught a lot of technic and solved my weak point. Moreover, every teachers are so kind to me. I`m glad to study at Shobi.

I think Shobi is the top music school in Japan. And I`d like to persuade everyone who want to develope your music skill to try out studying here. I`m waiting for you. See you at Shobi.