Home>
Drake Childress / United States of America / Arrangement & Composition Dep.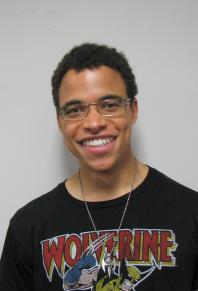 I came to Japan because I got tired of America. I came to Tokyo because....well it's Tokyo. In a traditional (non-music) school, we study cultural movements like the Renaissance, the Baroque, and the Age of Enlightenment, but I feel that modern Tokyo has such Culture that there is something here for everyone. The city pulses with a life force that is indescribable and irresistible--the districts and neighborhoods have so many distinct colors, sights, scents, and sounds that entering each one of them is like exploring a new world. It's a great environment--especially for me and my love of music. I think wherever you are, it is important to be in a place where you are constantly fascinated.
  My love for music has existed well before I entered Shobi, but the energy of Tokyo has encouraged me to pursue what means the most to me. I was studying at the University of Tokyo since September of last year, but my mind on music, my many travels around the city led me to Shobi--and I am very glad I found it.
 The buildings themselves are nice learning environments, but what strikes me most about my Shobi experience is the people. My classmates are very interesting people, they teach me Japanese you don't usually find in textbooks, and their personal stories are enriching. As for my Sensei's, I am amazed every time I come to class! Besides the fact that they are maestros at several different instruments and have compendious, encyclopedic musical knowledge, I get the feeling that they really enjoy what they do. It is a true love story--the fact that they have been in music for years, playing at concerts, recording, and teaching--and yet they remain as fascinated as a first year student like me. Their freshness is refreshing for me and my classmates.