Home>
[Event Report] Employment in Japan - SHOBI holds a business guidance exposition!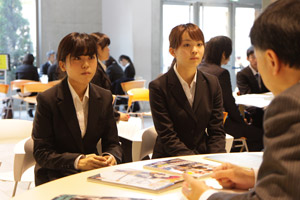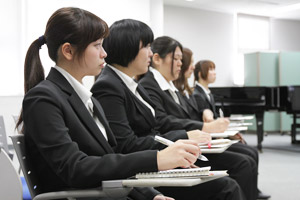 Foreign students interested in Japan's music entertainment business have a high concern and interest about employment in Japan. But as there are only two years of study in vocational schools, students have to find those answers in those two years. The school also helps and gives support to the students, such as the business guidance exposition.

SHOBI holds every year this business guidance inside the school to give the students the support needed to find employment. This year, the guidance was held on November 27th (Wednesday).
SHOBI has a carrier center in which students can find the support needed to look for information about the companies, how to write a resume or an entry sheet as well as help in practicing for job interviews.
For this occasion, we talked and asked a few questions to the head of the carrier center, Mr, Saeki, about the business guidance and the current situation for foreign students to find employment in Japan's music and entertainment industry.

△How many companies participated in this year's exposition?
------26 companies participated this year, including record companies, entertainment production, TV production companies, Event, sound and lighting companies, etc.

△How about the year and course of the students who participated?
------160 students from the music business course, audio and visual course, among others, listened with enthusiasm the conferences of a variety of companies. All of them 1st year students as the employment activities start from the 1st year.

△Is it difficult for foreign students to find employment in Japan's music and entertainment companies?
------Its vital for the music business to advance into a new market in Asia based most in Taiwan and Korea. Companies look for employees who can be a bridge between Japan and their own country.

△What kind of foreign students is the Japanese music and entertainment industry looking for?
------They are looking for people who can transmit and promote, with english as a basic, a variety of demands such as information and music globally.

△Thanks to the carrier center, every year foreign students see their dreams about working in the Japanese music entertainment industry come true. What does the carrier center look for in foreign students?
------We want students to have their goals very clear and to collect the necessary information to enjoy appealing and approaching the companies.

Thanks to the carrier center's head Mr. Saeki's, we got very helpful information. Now let's hear what two foreign students who participated in the business guidance exposition have to say.

Sai - Audio and visuals course 1st year (Korea)
I went and listened to the conferences of 5 different companies including PA and visual companies. I found a company in which I would like to get employed. This company will hold a training in March so I decided to participate on it.
It's very difficult to search and choose a good company if you do it by yourself but the school makes it easier thanks to events like that.

▲Cheng - Music Business course 1st year (Taiwan)
I also went to 5 conferences. Apart from that I also listened Pony Canyon's conference and Golden Bomber's company Euclid Ageny in which the boss is Kimura, a teacher from SHOBI. As my first choice is concert production the conference of a company called HIP was also very useful to me.

In the international exchange center we give a variety of support to foreign students to help them reach their dreams.
If you have any questions after reading this article please send us a mail in your language. Best regards.

Contact mail:
iec@shobi.ac.jp