Home>
[Event Report] The Fourth "SHOBI's Pre-school ~Getting used to Music and Music Business Terminology" for International Students
The SHOBI International Exchange Center holds a free "pre-school" program for international students who are currently attending a Japanese Language school and are considering furthering their studies in a professional training college.
"Pre-school" refers to lessons held at a professional training college, taken before enrolling into the professional training college to help you get used to lessons here.
On December 17th 2016, the fourth "SHOBI's Pre-school ~Getting used to Music and Music Business Terminology" for International Students (Instructor: SHOBI Music Business Department Head, OKAMOTO Tadayoshi) was held!
The theme of the day was "Music Business ~Work and Study~".
First of all, regarding "greetings". In the Japanese music industry, regardless of day or night, "Ohayo-Gozaimasu (Good Morning)" is the standard greeting. Next, it was time for the participants to introduce themselves (country of origin, desired department of study and whether they wish to work in Japan in the future or not).

It seems like they all desire to work in Japan someday.
Mr. OKAMOTO, who holds an extensive career in the Japanese Music Industry, such as being in charge of the A&R of several famous artists at major domestic record companies, explained to us the current state of music business and the types, roles, relationships etc. in the music industry.
In addition, he left a valuable message to the students who have come all the way to Japan from all over the world. International students, like them, whom are able to speak/write a language other than Japanese and whom are able to understand and explain about Japan, are exactly what the Japanese Music Industry needs. Hence, there are many opportunities for them. Music is a way of communicating feeling of "like". Even in music business, communication is the most important.
It was a lesson worth attending!
From the attending international students, we received comments such as "I learnt a lot about music business and I want to learn a lot more." "The stories about Avex etc. were really interesting." "The Japanese used in the lessons were difficult, however a detailed lesson about the industry by a "real Japanese teacher" proved to be a good listening practice." etc.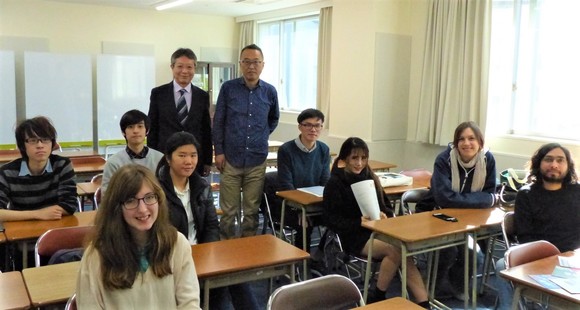 It seems to have been a really good experience for the students♪
Furthermore before the lesson started, there was an explanation on the Japanese terminology that would be used in the lesson, taught by Mr. KISHI, Naokazu of the International Exchange Centre, who is also a Japanese teacher.
We received feedback such as "The Japanese terminology lessons were really helpful. I gained confidence that I would be able to study in Japan in the future."
We appreciate you all for joining this event! We are planning to hold this kind of events again in the near future. Please keep checking this website♪