Home>
【Live Information】Contemporary Pop Course's Live 2014.4.9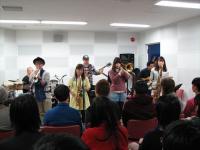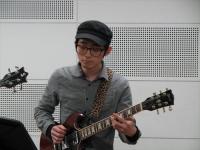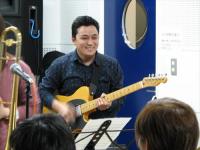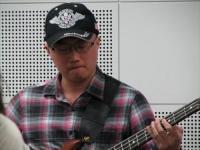 With the concept [Aspire to be an all round player and to move
the music scene with our performance skills], guitar, bass, drum,
keyboard, saxophone, trumpet and trombone players from the
Contemporary Pop Course are working hard everyday to improve
themselves.
On that day, 2nd year students performed a welcome live for the
new students in the 5th building's 2nd floor studio.
Currently there are 3 foreign students in the 2nd year of
Contemporary Pop Course. All of them did an exellent performance
on that day.

The songs they performed are the following:
Autumn Leaves (Joseph Kosma)
Georgia On My Mind (Hoagy Carmichael)
Pass The Peas (James Brown)
Let's introduce the 3 foreign students.
KIM JAE YOUNG, from Korea, guitar major
LEE DONGWOOK, from Korea, guitar major
PRADHAN SAGAR, from Nepal, guitar major
There's also one more foreign student from Taiwan in bass major,
LIN CHIA-WEI.
He graduated this year from the Contemporary Pop Course and
transferred to the 4 year course from Shobi's Academy's
Jazz/Popluar Course starting from the 3rd year. He also performed
on the live as a supporter.
There are 7 new students this year in the Contemporary Pop
Course. Everyone from the foreign intercourse center is looking
forward to see the new students also performing in next year's
welcome live.