Home>
【News from the Foreign Interchange Center】The International Sudent's orientation and Intercourse event was held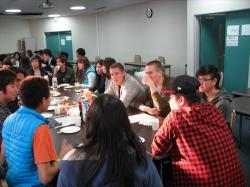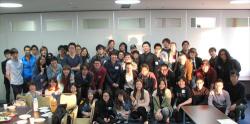 37 new foreign students from Korea, China, Sweden, Taiwan, Indonesia, Tailand and Malaysia joined Shobi this year.
Also, the Foreign Interchange Center held an orientation and an intercourse event for all the foreign students on the 8th of April 2014.
A lot of things were explained on the orientation, including the function of the Foreign Interchange Center, the support of students Japanese, information about scholarships, how to purchase a student's commuter pass and so on, while following the book 『International Student's Everyday Life Guide』created by the Interchange Center.
Following, the contents of Shobi's International Student's Concert that will be held the 1st of November were presented. Shobi's International Student's Concert is a concert with a long history that will be held this year for the 21st time.
There was also information about how to apply as a performer or as staff and greetings from the International Student's leader Song YoungMyung.
After that, there was an intercourse event with both new foreign students and their seniors. As most of them will be on different courses in the school, this was a very good chance for them to know each other. While having some food and
drinks, they were able to spend a very useful hour interchanging information and
introducing themselves.