Home>
October 22nd, decided! ] Lavish event performance by international students in SHOBI.「GLOBAL HOTTING」 [SHOBI]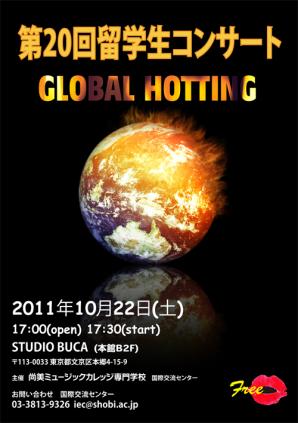 2011.10.22 (SAT)
SHOBI is hosting「20th international students concert」 at SHOBI STUDIO BUCA.
It is the important event for our international students and we only hold this concert once a year. Also, we are very grateful to greet the twentieth in 2011.Thank you for the supporting.
This time, the 「GLOBAL HOTTING」concert, international students from SHOBI is showing you POPS, ROCK, R&B and further types of music.
Please welcome to the concert in SHOBI and enjoy the awesome night with us.
「20th international students concert」「GLOBAL HOTTING」

[Date & Time]
October 22nd, 2011 (SAT)
Open 17:00
Start 17:30
[Place]
SHOBI STUDIO BUCA
[Charge]
Free
[Sponsor]
SHOBI MUSICAL COLLEGE INTERNATIONAL EXCHANGE CENTER
Counselor 大野•岸
E-MAIL:iec@shobi.ac.jp
Click here to see the concert promotion video.
October 22nd, decided! ] Lavish event performance by international students in SHOBI.「GLOBAL HOTTING」 [SHOBI]