Home>
Ramon Riu / Barcelona, Spain /Comprehensive Music Dep.( Music Business Course / 3rd year)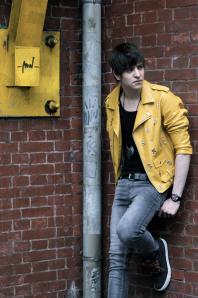 My name is Ramon and I'm from Barcelona, Spain. Since I was 16 I wanted to come to Tokyo and work in the music industry here so I finally made up my mind and moved to Japan 5 years ago.

After studying 2 years in a Japanese language school and another 2 years in a vocational school,I found out about Shobi's 4 year course in music business. I attended the open college and I was impressed by the quality of the equipments in the classrooms and the environment of the whole school. The staff was really helpful and friendly too, so I decided to transfer to the 3rd year of the Comprehensive Music Dep.
Once the lessons started I felt that the subjects matched perfectly what I wanted to do and that I was getting a very good training to find a good job later. But the most important thing for me is the support and help that the teachers and staff provide me about the lessons, job hunting and my career in general.

I've met a lot of good friends in Shobi, both Japanese and foreigners. I'm a vocalist of my own band too. So I can say I'm really satisfied and enjoying my life in Japan.

Currently, I keep on doing activities and lives with my band besides studying music business at Shobi. So I'm sure that I can get the job I want when I graduate next year.