Home>
Shobi Music College held the 2014 entrance ceremony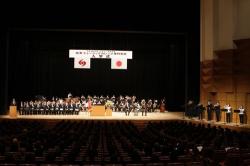 Monday 7th of April 2014
Shobi Music College held the 2014 entrance ceremony and both students and family members were able to celebrate with success the entrance in the school.
To get the feeling of entering a music school the ceremony started with the performance of Shobi's Wind Orchestra and receiving many congratulations from the school's principle Mr. Noguchi.
The mixture nervousness and hope in the faces of the new students while they were listening was something to remember.