Home>
"SHOBI's Pre-school ~Getting used to Music and Music Business Terminology~" for International Students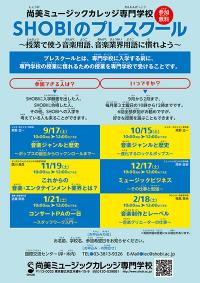 We will be holding SHOBI's Pre-school "SHOBI's Pre-school ~Getting used to Music and Music Business Terminology~" for International Students!
At SHOBI's Pre-school, receive lessons on music and music business terminology from a Japanese language teacher before the lessons by actual SHOBI teachers, all completely free of charge!
A great opportunity to learn music-related Japanese words and get used to lessons at a professional training school! Do join us!
Please click here for [Event Report] The Second "SHOBI's Pre-school" held on 15th October, 2016.

【Lesson Plan】
1st session: 10:00 - 11:00 "Japanese language lessons"
2nd session: 11:00 - 12:00 "Professional Training School lessons by SHOBI's teachers"

【Event Days and Lesson Themes】
15th October 2016 (Sat) "Music Genre and History ~the evolving Rock & Pops"
19th November 2016 (Sat) "The Future of the Music and Entertainment Industry?"
17th December 2016 (Sat) "Music Business ~Work and Study~"
21st January 2017 (Sat) "A day in the life of a concert PA ~Introduction to Staff Work~"
18th February 2017 (Sat) "Music Production and Labels ~a Music Creators work~"

【Meeting Place】
SHOBI College of Music Main Building 1F (MAP)

【Price】
Free

【Application Method】
Please let us know your name, school and preferred days.

【Application / Inquiries】
International Exchange Centre(Kishi・Kiuchi)
TEL: 03-3813-9326 E-Mail: iec@shobi.ac.jp