Home>
Sound, Visual, and Lighting Department Internship
We will introduce SHOBI's Sound, Visual, and Lighting Department Internship.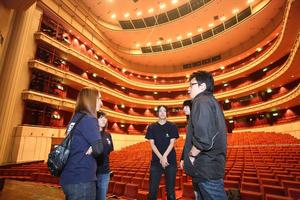 Every March, SHOBI's Sound, Visual, and Lighting Department provides a business induction course and an internship. First year students are the target for this internship.
Because March is during the Spring Vacation, there are no classes. Therefore, this internship is held outside of regular class time. Students that wish to take part in this internship program are able to go to a company relating to their field of study and increase their skills at an actual company.
The companies that are cooperating in the development of student's skills all accept a predetermined number of students. Students that participate in the internship will spend 1-3 weeks at the company where they will work alongside employees doing their regular jobs. Every year approximately 30 companies take part in SHOBI's internship program and accept students.
The distribution of companies based on field of study is as follows:
Concert PA Companies: 6
Recording Companies: 5
Lighting Companies: 5
Visual Companies: 14
There is no special fee for participating in this internship program.
The three requirements for participating in this are diligence, motivation, and good health.
In other words, this means that anyone can participate in this internship. However, because this is a program where students will become a member of the company during their internship, if you think the staff will be like your teachers, you are mistaken. If you wait for someone to teach you everything you will not learn anything. Effectively absorbing knowledge and moving the hearts of the company employees will become the sign of your accomplishments and lead you to success.
From March 6th of this year, over 70 students from the Sound, Visual, Lighting Department are taking part in this internship program. We hope that students can take part in this internship and fully learn what they are unable to learn in this classroom.
Department URL: http://www.shobi.ac.jp/course/sound/