OUR EDUCATION
Respects the personal needs of each student, according to his/her professional goals and individual interests.
Is practical and applicable, allowing students to participate in concerts, live performances, and other event activities.
Encourages students to participate in integrated, interdisciplinary activities in which various departments collaborate to help students broaden their horizons.
ABOUT SHOBI COLLEGE OF MUSIC
■ SHOBI's Features
Over 300 professional teachers
A variety of 13 departments comprised of every type of music
Support for debut, seeking work, and fulfilling dreams
Further advance with our 4-year program and admissions to Shobi University
■ SHOBI's 3 Education Policies
Personal Education – Attentively supporting and watching over each and every student.
Hands-On Education – Real practice to master proper techniques for concerts, lives, and other events.
Collaboration Education – Further learning by participating between 13 departments. Learning beyond the limits of each individual department.
■ Support for SHOBI's International Students
INTERNATIONAL EXCHANGE CENTER
International students can receive information on a wide range of issues such as enrolment and graduation procedures, living in Japan, help with studying, and visa problems. Chinese, Korean and English are available. We also provide Japanese class for free.
E-mail:iec@shobi.ac.jp
(From overseas) Tel: +81-3-3813-9326 / Fax: +81-3-3812-9248
(Japan) Tel: 03-3813-9326 / Fax: 03-3812-9248

POST GRADUATE CAREER SUPPORT
The CAREER CENTER provides relevant information and gives support to students who are preparing for job applications. A huge number of opportunities are available here such as part-time jobs, auditions, and enterprise training. Employment tactics are also available to support students who are interesting in becoming professional musicians or professionals in the music industry.
SHOBI SCHOLARSHIP PROGRAMS
We provide scholarship programs especially for international students. By taking advantage of these scholarships, international applicants can reduce their tuition up to 300,000 yen upon entering school.
TRANSFER SYSTEM TO COMPREHENSIVE MUSIC DEPARTMENT GRADE 3
Students who have graduated from SHOBI's two-year course curriculum are eligible to transfer to the third year at the Comprehensive Music Department. It is possible to transfer for the third year at Shobi University.
SHOBI is selected as a "suitable school" by the Tokyo Immigration Bureau.
As SHOBI is selected as a "suitable school", the international students are granted a student visa for 2-years and 3-months.
AFFILIATED DORMITORIES
The monthly dorm fees are 53,000 yen per month, with a meal plan of 2 meals per day included.
EJU (Examination for Japanese University admission for International Students)
If an international student achieves a superior score in the Japanese language portion of the EJU before entering SHOBI, he or she can receive a study incentive grant scholarship, which is a monthly 48,000 yen stipend that continues for a year. To be more precise, a student selected for the "Reservation Program for Monbukagakusho Honors Scholarship for Privately Financed International Students" from the Japan Student Services Organization (JASSO) upon entering SHOBI will be eligible for the study incentive grant scholarship.
OUR SCHOOL
SHOBI is located in the center of downtown of Tokyo. It is close to the famous Tokyo Dome, La Qua, and Bunkyo Ward's Civic Hall, and has easy access to Tokyo hot spots such as Shinjuku, Shibuya, Tokyo, Akihabara, Ikebukuro, and Aoyama. SHOBI is accessible by four subway lines and one JR line.
SHOBI is a well-established educational institution with ninety years of history.
SHOBI is an accredited professional training college. Upon graduation, students of two-year course will receive a diploma (postsecondary course). Students who graduate from the four-year Comprehensive Music Academy will receive an advanced diploma (postsecondary course).
SHOBI is equipped with the latest state-of-the-art professional equipment, film studios, non-linear editing classrooms, vocal recording studios, instrument recording studios, master recording studios, pre-production studios, sound design studios and specialized production studios. All are available for students to utilize.
SHOBI's BUCA performance studio and the concert hall, Vario Hall, provide students a place to experience a variety of performances. Students can also use a number of dance studios, full-sized professional recording studios, as well as practice rooms.
For students studying to become professional musicians, SHOBI provides them the top-quality instruments. The concert hall and BUCA have Steinway and Bensendolfer grand pianos for concert recital practices and performances, and all practice rooms are equipped with Yamaha pianos. World class brasses are also available at SHOBI.
SHOBI's Study Models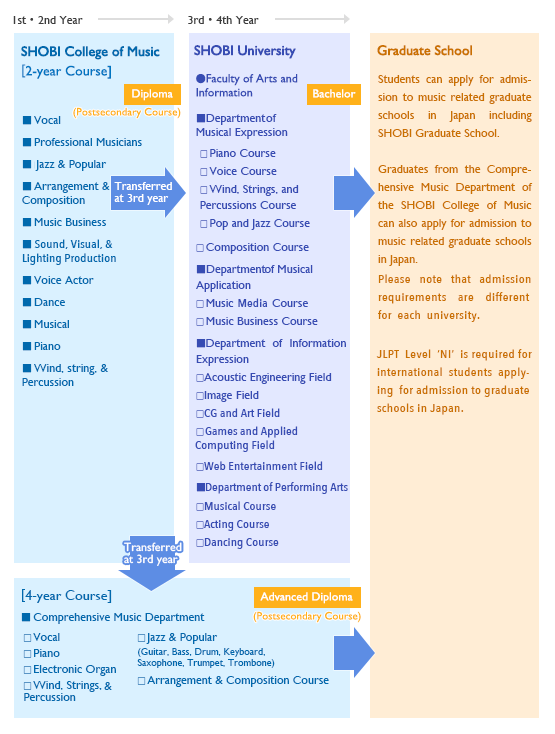 SCHOLARSHIP PROGRAMS
SHOBI SCHOLARSHIPS
1) Special Entrance Scholarship for International Applicants (Only for new students)
International Students are given a special 100,000 yen exemption from their enrolment fee at the time of registration. They must submit the "Application for International Student" and must be interviewed by staff at the International Exchange Center.
2) Unique Scholarship for International Applicants
Applicants should write on the application form what they gained from their experiences and what they hope to achieve. Part of the tuition will be exempted from annual tuition and fees. The application form for this scholarship is attached in the brochure of International Student Application Forms. This scholarship application must be submitted on or before submission of official application for admission. This scholarship application after the official application for admission is not accepted.
Screening will be done by evaluating what the applicants wrote.
Application Period: June 1, 2016 (Wed) to March 17, 2017 (Fri): Application must arrive by this due date.
Recognition / amount of scholarship:

Recognition Ⅰ(200,000 yen will be exempted for entrance year)
Recognition Ⅱ(100,000 yen will be exempted for entrance year)
3) Honor Student Scholarship
This scholarship is for applicants who have already had experience, knowledge, or technical training in their major fields. In other words, applicants should show evidence that they have won prizes in competitions or auditions, or have excellent knowledge and skills. Application forms for this scholarship are on page 15-18 of the International Student Application Forms. Full tuition or half tuition will be exempted from the annual tuition and fees.
Application Period and Screening Day
Screening Day
October 9, 2016
December 18, 2016
February 26, 2017
Application Period
June 1 - September 28, 2016
October 1 - December 7, 2016
January 5 - February 15, 2017
Vocal Dept.
○
○
○
Pro Musician Dept.
○
○
○
Jazz & Popular
○
○
○
Arrangement & Composition
○
○
○
Music Business
○
N/A
N/A
Sound & Visual Production
○
N/A
N/A
Entertainment Business Entrepreneurship
○
N/A
N/A
Voice Actor
○
○
○
Dance
N/A
N/A
○
Musical
N/A
N/A
○
Piano / Electronic Organ
○
○
○
Wind, Strings, and Percussion
○
○
○
Comprehensive Music
○
○
*Excluding the Piano and Electronic Organ majors
○
Screening will be done by audition or presentation.
Results will be announced within a week after each screening.

"SA" Recognition (Full tuition will be exempted for entrance year)
"A" Recognition (Half tuition will be exempted for entrance year)
Notice: Students cannot receive simultaneously with the Unique Scholarship.
4) Advancement Scholarship for International Applicants
Upon recommendation by their department heads, students with high standings are eligible for an Advancement Scholarship that allows for reduced tuition as they are promoted to the new school year level.
SCHOLARSHIPS SPONSORED BY INDUSTRIES AND GOVERNMENT
1) Monbukagakusho Honors Scholarship for Privately Financed International Students
2) Kyoritsu International Foundation Scholarship
3) Kyoritsu Maintenance Scholarship
4) Hashiya Scholarship